Straight out of the streets of Los Angeles, CA, Clover Canyon is one of the latest design houses that is starting to sweep the celeb streets and catch the eyes of editor's all over the nation. I just learned of the brand last week and have been all googly-eyed and obsessive of their collections ever since. Rozae Nichols design approach is descirbed as reflecting her "California urban landscape; casual elegance, diverse in culture and rich in inspiration." I'm here for all of it.
via StyleBistro
As a native Californian (by way of the Bay), Clover Canyon speaks to everything I love about Cali. It's laid back, casual, sporty yet edgy, urban, and super colorful. It's fun! It's like seeing your culture perfectly translated into wearable clothing; it's how I feel when I see designers interpret their ethnic textiles into perfectly constructed modern apparel. Designers like Duru Olowu, Riccardo Tisci and Bibhu Mohapatra are all people who are fierce with those sort of interpretations. Rozae reps California, but she reps it like it is a nation of it's own and I'm HELLA DOWN.
Khloe Kardashian in Clover Canyon via Glamour
Solange at SXSW 2013 via fashionbombdaily.com
Now, don't even get me started on their Resort collection for 2014. IT'S. TO. DIE. FOR. I honestly love and would wear every single piece but for the sake of this post not going on forever, I'll just post my faves. Keep your eyes on watch for Clover Canyon and Rozae Nichols in the future!
via Pynkmag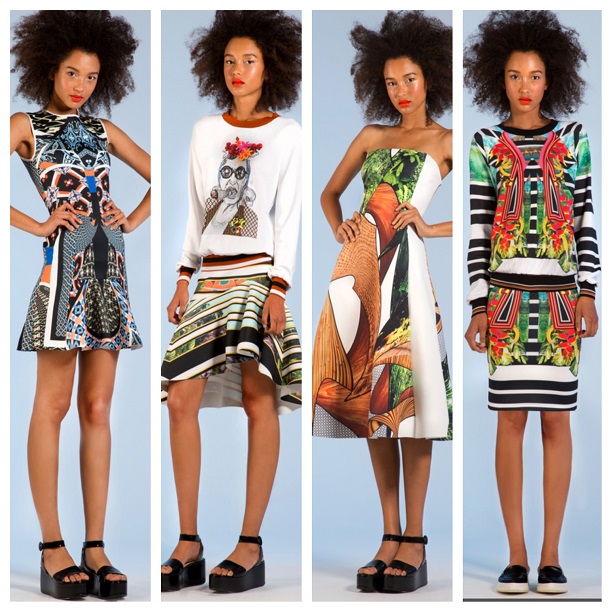 via fashionjunkie
- Emmef